Eerst volgende bezorg moment is
...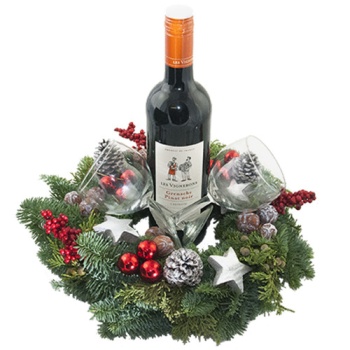 Bottle of red wine with a christmas wreath and wine glasses
Bottle of red '' Les Vignerons'' wine, two wine glasses and a decorated christmas wreath in red colors
Attractive gifts carefully selected for you.

You can supplement your order with one of our other gifts, a balloon or a bottle of wine. Guaranteed a success!
A card with personalized text can be added after step 3
Packed in a box as a Christmas package
Wreath of 30cm
Same day delivered
Delivery throughout the week also on Sundays
More than 25 years of experience
Back to the overview ''Christmas wine" and champagne
Step 1
Select your product
Step 2
Card / deliveryaddress
Step 3
Your details / invoice address
Eerst volgende bezorg moment is
...
Bottle of red wine with a christmas wreath and wine glasses
Bottle of red '' Les Vignerons'' wine, two wine glasses and a decorated christmas wreath in red colors
Attractive gifts carefully selected for you.

You can supplement your order with one of our other gifts, a balloon or a bottle of wine. Guaranteed a success!
A card with personalized text can be added after step 3
Packed in a box as a Christmas package
Wreath of 30cm
Same day delivered
Delivery throughout the week also on Sundays
More than 25 years of experience
Back to the overview ''Christmas wine" and champagne
Lees minder <